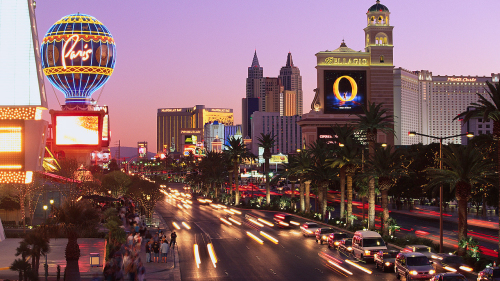 Las Vegas has its share of spooks and specters. From famous people to ordinary citizens caught in bad circumstances, their trapped souls roam some of the most famous places in the world. Why not combine ghost hunting with one of the things Las Vegas is most famous for, delicious libations. There are two places just south of Las Vegas where you might come across some haunts from the old west. Stay in town and you might just see Elvis or gangster Bugsy Siegel.

Here is our Top list of Sin City paranormal activity:

1.  The Luxor     Sightings of a ghost have been seen roaming the long room hallways that encircle the pyramid. Three men lost their lives during construction of the pyramid tower. Others say the place is cursed and will remain so until the image of an eye is installed at the pinnacle of the tower, outside.   
2. The Flamingo     Some say they see Bugsy Siegel's ghost wandering the gardens near the site of his (long ago demolished) suite, when the shadows grow long, before sunset. Bugsy was killed in LA,  but some believe that spirits return to places they love.
3.  Bally's      During the fire of 1980 (when Bally's was the MGM Grand), 84 people lost their lives. There have been many reports of sightings in the older buildings of this hotel.
4. Las Vegas Hilton     The ghost of Elvis has been seen lurking backstage in the showroom where he performed
5.  Bellagio     Actor Justin Pierce committed suicide in 2000, by hanging himself in one of the Bellagio's rooms.
6. Hard Rock     Legendary bassist for the Who, John Entwistle died there in 2002
7.  Stratosphere      Despite alarms, fences, and security personnel, four people have leapt to their deaths from the top of the more than 1,000-foot tall tower. The most current was 2/3/2006 when a 27-year-old man from Bristol, England took his last big step.



Also Check out some Haunted Las Vegas Bars:
CBS Top Haunted Bars