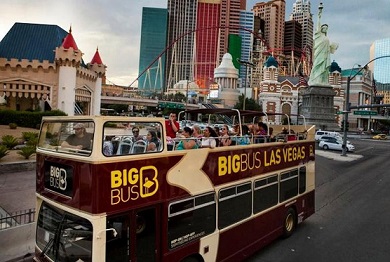 ---
Best Las Vegas Bus Tours to see the city 
The glittering lights and mega-sized resorts of Las Vegas, Nevada, make it a fascinating place to take a sightseeing tour. The city has come a long way since the town's first hotel, the Golden Gate Hotel and Casino, opened in 1906. Las Vegas plays host to some of the world's largest hotels, including the Stratosphere Hotel and Tower, the fifth-tallest building in the country. Tours of Las Vegas offer visitors the opportunity to learn more about the city known as the "Entertainment Capital of the World."
Booking a bus tour is a great way to really experience Las Vegas. When choosing a bus tour you have many options but we will break down the three sections.
First
there is the standard motorcoach tour , which you are in a luxury bus cruising to your destination in style. 
Next
you have our favorite the open top tours , These busses are parties on wheels and since they have open top double decks you get a wonderful view of the city.lastly you have standard tour busses that run along the city and strip , these can get you downtown and to most hotels.
Motorcoach
For views of Las Vegas from the comfort of an air-conditioned motorcoach, take one of the tours offered by Vegas Vance Tours (vegasvancetours.com). The company offers a three-hour city lights tour in the evenings that takes in the light show at the Bellagio Hotel. Or, you can take a tour of old Las Vegas complete with narrated tidbits about the area's history and a visit to the The Neon Boneyard Museum that houses neon signs from Las Vegas' past.
Open Top
Our Favorite Double-decker buses featuring open tops make for a breezy way to see the sights of Las Vegas. Open Top Sightseeing (
BigBusVegas.com
) offers several tours that allow you to get on and off the bus an unlimited number of times. Tours include rides along the strip where you'll see the hotels in all their glory. The company also offers trips to Adventuredome, a large indoor theme park with 25 rides and attractions. Use coupon code
BBT10VE
 for 10% off 1-day standard ticket.
10% Big Bus Tours Vegas