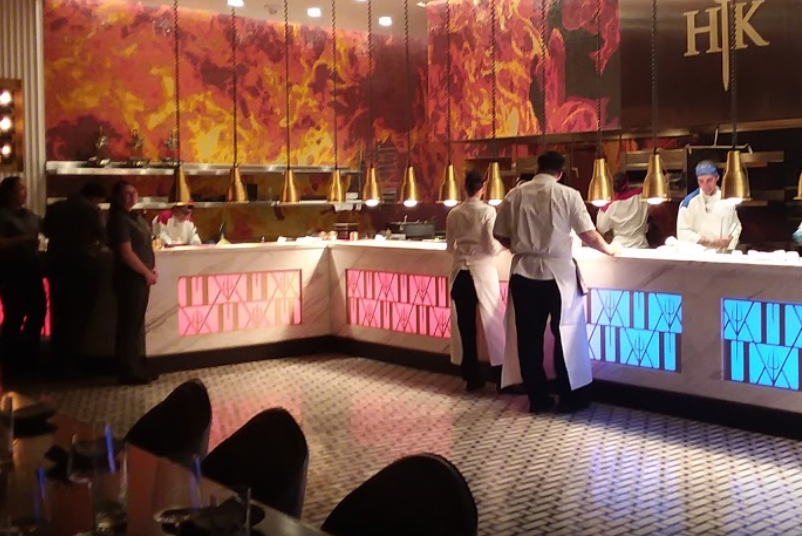 Inside Hells Kitchen in Las Vegas
The world's first HELL's KITCHEN restaurant is turning up the heat at Caesars Palace in Las Vegas January 2018. 
The celebrity chef's new restaurant, Hell's Kitchen, is inspired by, you guessed it, Hell's Kitchen. And by "inspired" we mean "replicated after." The space, which is located in Caesar's Palace in Las Vegas, is a re-creation of the show's set, with the aim of making guests feel like they're actually on the show. When they enter the space, decked out with custom-designed lighting that combine brass rods with pitchfork features, they'll be greeted by the iconic bronze HK sign with a pitchfork that's featured prominently on the series. And, as an extra special treat, they get to experience Ramsay's characteristic yelling and the stress of working the line.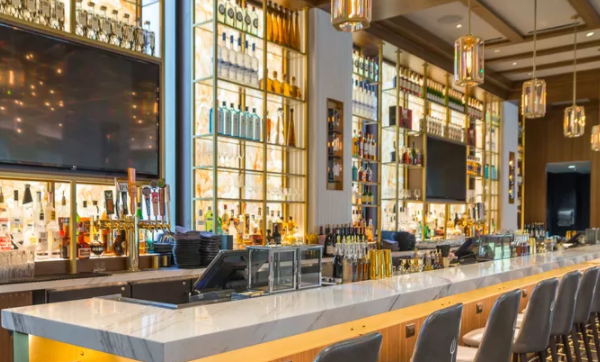 Bar at Hell's Kitchen Vegas
The opening team is executive chef Jennifer Murphy, who has cooked at the Eiffel Tower Restaurant, Michael Mina and Prime at Bellagio and L'Atelier de Joël Robuchon; and Ramsay's Vegas boss and executive chef of his United States restaurant operations Christina Wilson. The winner of the current season of "Hell's Kitchen" will be awarded the job of head chef.
"The cooks here are not competing for competition but for the standard. I think this is going to be harder," Ramsay says. "We can't have excuses for rubber scallops; there can't be undercooked risotto. I'm not saying we've put our neck in a noose but we've made it tough on ourselves because we have to get this right. It's not TV now, this is the real deal. But having Christina and Jen here, they are in a different league."


MENUS