Details

Written by

Kathy Wen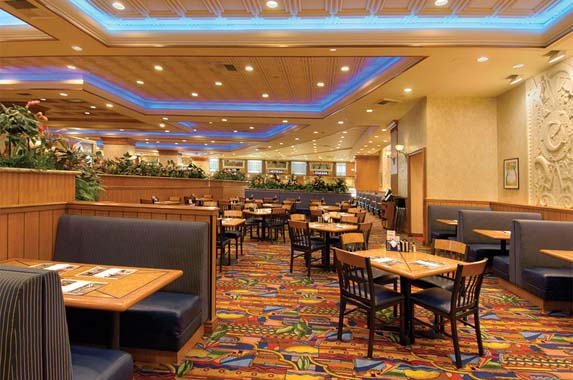 Address: 4000 W Flamingo Rd, Las Vegas, NV 89103
Phone: (702) 3677111
With seven live cooking stations, the Ports O'Call Buffet offers a feast fit for a king at a price that can't be beat. Casual dining, all major credit cards accepted.
---
Details

Written by

Kathy Wen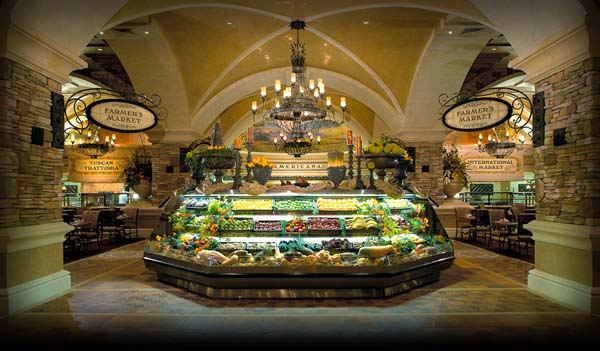 Address: 2300 Paseo Verde Pkwy, Henderson, NV 89052
Phone: (702) 6177777
There's certainly no shortage of buffets in Las Vegas, but the Feast Buffets by Station Casinos stand head and shoulders above the rest. Your first trip to the Feast Buffet will leave you with no doubt as to why they are widely regarded as one of the best value buffets in Las Vegas. 
Green Valley ranch is exactly what it is billed as, a high end locals casino that doesn't hit the wallet as heavily as some of the high end Strip hotels like the Bellagio and Aria. While it lacks the presence of a big time show it has a great concert venue in Ovation that draws national acts like Styx and Aaron Lewis.
Green Valley doesn't have super cheap tables like O'Shea's, but it does have weekday minimums on blackjack and the like that hovers in the $10 range. Great food venues like Turf Grill and the Feast Buffet combine with some great bars, like the centrally located Drop Bar that is hip without being pretentious and Quinn's where the true feel of an Irish Pub is ever present.
Worth the short drive and is even a great place for a night away or a staycation. check the frequent locals promotions and make sure you grab your Boarding Pass.

NEW-For the entire month of August (sidenote Mon-Thurs ONLY) Red Rock Casino and Green Valley Ranch's Feast Buffet are offering 2-for-1 deals. Typically there is a catch - and really - this time, there is no catch. This is what you do:
1. Go to either of these casinos and find the Rewards Kiosk. There are many of these throughout the casino floor.
2. Swipe your Players Card, enter your PIN, and the promotion of 2-for-1 Feast Buffet will appear on the screen.
3. Select the Feast Buffet Promotion and it will print right out of the kiosk.
4. Now, take this voucher with you to the buffet.
So, you see it's relatively easy and you don't have to accumulate any kind of points to receive the promotion. You can only receive one 2-for-1 voucher per day so strategically think about which meal you want to use it on. If you have a friend or a spouse - now - then you can actually take advantage of this twice each day. One swipe per card.
---
Details

Written by

Kathy Wen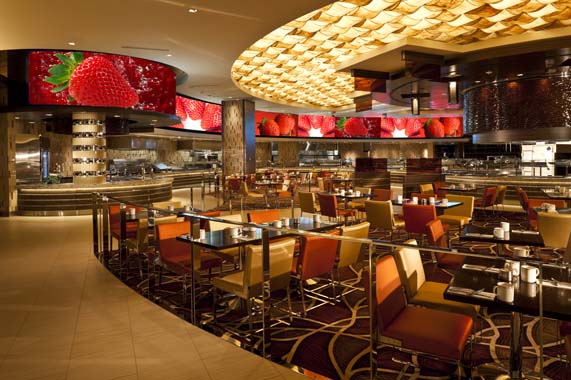 Address: 12300 S Las Vegas Blvd, Henderson, NV 89044
Phone: (702) 7971000
Studio B brings you a buffet experience unlike anywhere else by integrating a
stateoftheart
 restaurant with a
liveaction
 cooking studio. In the main dining room, chefs prepare delicious appetizers,
entrees
and 
outofthisworld
 patisserie desserts. Guests may also enjoy beer and wine selections at no additional cost. The dining experience is made truly unique by the
everchanging
 live cooking and technique demonstrations by culinary experts that are broadcast on 110' x 6' video monitors inside the main buffet so everyone can watch. With continually evolving flavors and entertainment, no day is ever the same at
Studio B
. Here you come to eat, but you leave entertained.
---
Details

Written by

Kathy Wen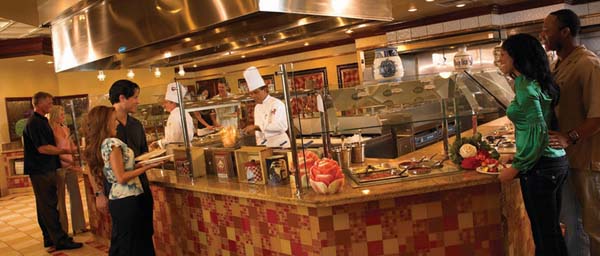 Address: 2411 W Sahara Ave, Las Vegas, NV 89102
Phone: (702) 3672411
There's no reason to reach for dining coupons if you're planning to eat at Palace Station. Our restaurants offer some of the best value in all of Las Vegas, featuring affordable meals for every taste and at any price point. Better yet – join our Boarding Pass players club to take advantage of additional value, like the ability to redeem your points for cash, or dining discounts. Whether you feel like flavorful southoftheborder Mexican cuisine , spicy seafood or the best buffet in Las Vegas , our best of Las Vegas restaurant deals are sure to please.
---
Details

Written by

Kathy Wen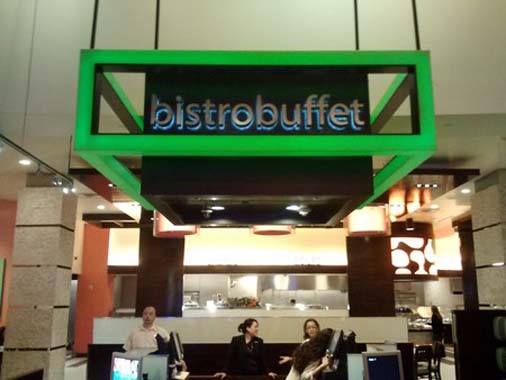 Address: 4321 W Flamingo Rd, Las Vegas, NV 89103
Phone: (702) 9427777

The all you can eat Bistro Buffet consistently competes for the top spot among upscale buffets in Vegas. It's got an array of live cooking, carving and fresh prep stations along with a huge spread of sumptuous samplings from around the world. With over 150 items daily, it's easy to see why the Bistro Buffet is one of the best value buffets in town.
---