Palms Hotel Casino (wiki commons)
Something new is in store for Las Vegas, a celebration of All-You-Can-Eat that is said to be redefining the Vegas buffet. Worldly cuisine presented in an innovative, technique-focused fashion will be the signature of A.Y.C.E., which will host guests in an open food hall setting. A.Y.C.E. features from-scratch recipes and various cooking methods set across seven stations: The Greenery, The Hearth, The Roastery, World Pan, Smoke & Fire, Revival & Sweet & Light.
The design features communal tables, checkered stained-glass windows and plaid carpets. Seven food stations are based on cooking methods: The Greenery with fruits, seasonal salads and Italian antipasto; The Hearth centered around a brick oven creating casseroles, cedar plank salmon and pizzas; The Roastery with a 900-degree grill churning out oxtail poutine, grilled calamari steaks and quesadillas; The World Pan with preparation done on a wok, with paella, bao buns and gumbo; Smoke & Fire with smoky nuance added to bourbon-glazed ham, barbeque ribs and smoked brisket Benedict; The Revival focusing on healthy foods and vegan and vegetarian cuisine with fresh pressed juices, crispy eggplant "bacon" and quinoa grits; and Sweet & Light with fruit cobblers, freshly baked cookies, croissants and a gelato bar. A.Y.C.E. is open daily for breakfast, lunch and dinner and offers a Bottomless Mimosa Brunch on Sundays. A.Y.C.E. Buffet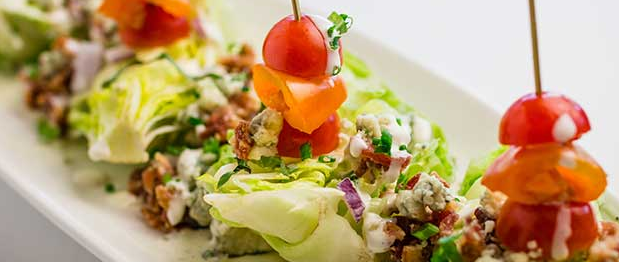 Mini Cobb Salads @ Palms Buffet 
The Resort:
Palms Casino Resort
Internationally recognized for its exceptional accommodations, high-energy nightlife, extravagant pools and world-renowned restaurants, Palms Casino Resort captures all the excitement and energy of Las Vegas in one vibrant setting. 
Situated on nearly 30 acres, Palms is a boutique property with three distinct towers – each offering unparalleled views of the iconic Las Vegas Strip. 
Notable Hotspots
Palms Pool & Dayclub
Pearl Concert Theater
Contact:
Palms Resort
4321 W. Flamingo Road
Las Vegas, NV 89103
702.942.7777