Click image for best expedia price
Address: 3570 S Las Vegas Blvd, Las Vegas, NV 89109
Phone:(702) 7317928
The original Bacchanal was Caesars Palace's gourmet room where attendees took three hours to taste a variety of gastronomic extravaganzas while
toga clad
 waiters and waitresses served wine. The new buffet indulges in a similar
overthetop
 experience with more than 500 different dishes made daily from more than 800 recipes and a facility designed by restaurant designer Super Potato. The Bacchanal Buffet is divided into nine different show kitchens: Mexican, Italian, Chinese, Japanese, American, seafood, pizza, deli (including soups,
cheeses
and charcuterie selections) and desserts. All the "comfort foods" from mac 'n' cheese and mashed potatoes to prime rib
is
 served. Each show kitchen also has an action station with plated dishes and "minis" (small sized portions of modern cuisine to tempt foodies like red velvet pancakes,
oak grilled
 lamb chops and roasted South Carolina shrimp and grits). Among the uniquely crafted items, guests will discover
house smoked
 barbecue ribs and brisket, fresh tortillas and oyster shucking. Plus, there are plenty of options to please vegetarian, vegan and
gluten free
 eaters.
Bacchanal is a blend of familiar and adventurous dishes. While you'll find many high-quality comfort food staples at Bacchanal—sliced pizza, barbecue, French fries, Caesar salad, fried chicken—this place thinks out of the box, too. Go ahead and try the roasted red pepper and crab gazpacho or gumbo-esque shrimp and grits dish.


Bacchanal's spiffiest new offering is caviar, whole fish and lobster as upsell charges
.
The whole fish option was introduced to target the large groups that often dine at Bacchanal. Available for lunch and dinner, you can order a whole fish for the table with prices ranging from
$21.19
to
26.19
per pound.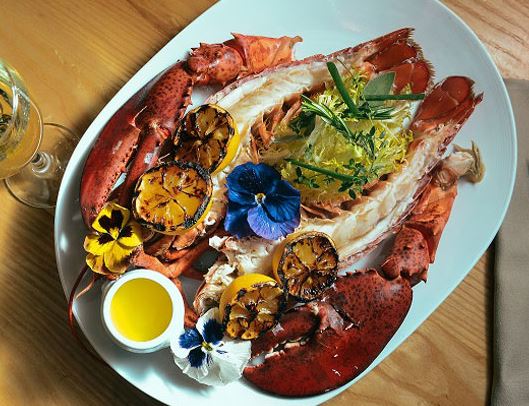 Whole
Lobster @Bacchanal
Choose from Norwegian Mackerel, New Zealand Tai Snapper and Golden Pompano. Further customize your catch with two different preparation options:
-
Grilled Whole
: Belly stuffed with fresh lemons and aromatic herbs, seasoned with
fleur de sel
and fresh cracked tellichery black peppercorn – Charred lemons & fresh herbs for garnish
-
Fried Whole
Asian Style: Tamari soy & yuzu base sauce, ginger and scallion topped, hot sesame oil sear to finish, chili thread and cilantro garnish
Sneak Peek Inside Look 
The line pass
.
Though Total Rewards Diamond and Seven Star members have their own VIP line, any diner can purchase a $20 line pass to skip Bacchanal's (sometimes) lengthy lines and wait times. Additionally the new digital
FreshTxt
kiosks let you "check in" in line and virtually hold your place for hours, alerting you by text when it's your turn. For a $15-$30 upgrade cost, Bacchanal Buffet is also available for those who have purchased a "Buffet of Buffets" pass.
---