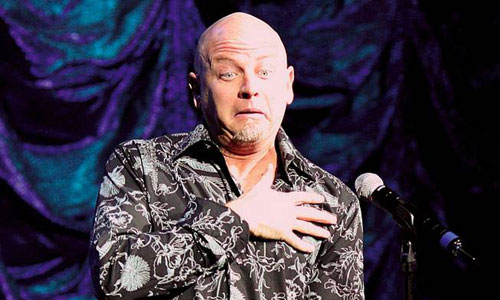 Sharkey's Comedy Club

Beginning February 1st, standup comedian Don Barnhart appears nightly at Jokesters Comedy Club inside the D Casino & Hotel
Taking time off from his national tour and entertaining the troops, comedian
Don Barnhart
returns home to perform nightly at Las Vegas' newest home for stand up comedy. Jokesters Comedy Club inside the D features some of the best local and national stand up comedy talent nightly at 10:30pm and you never know who might pop in to do a guest set or work out new material.
Barnhart's standup comedy is fresh, funny and intelligent. He brings social awareness to light with thought provoking insights that are as hysterical as they are poignant. The Las Vegas Review Journal recently called Don Barnhart's show one of their "Best Bets".
Barnhart appears in the upcoming film I Am Battle Comic, the new documentary from filmmaker Jordan Brady about the importance of entertaining the troops. Brady joined the Battle Comics on a recent trip to Kuwait and Afghanistan where they visited and performed for many of the troops based in Las Vegas including the 17th Sustainment Brigade.
The film includes behind the scenes footage along with interviews from many of the comedians that have recently volunteered their time to go overseas including George Wallace, George Lopez and Dave Attell. The comedians share their insights and thoughts on the impact of entertaining the troops and the importance of keeping our soldiers' moral high.
Prior to going overseas, Don Barnhart's Battle Comic team put on a military appreciation night of free comedy at Jokesters Comedy Club and guests brought enough toiletries, snacks, DVDs, CDs and other thank you gifts for the troops that the team brought four oversized boxes to deliver to the troops in Afghanistan.
One of the highlights of the tour was when Barnhart and Rev. Russ Smethers of Abundant Peace UCC asked Russ' wife, Rena Smethers of Gibson Middle School to do a class project of students writing thank you letters to some of the troops. The three of them were overwhelmed by the response when not just one but all of the classes got on board coming up with almost 1000 letters of thank you and gratitude to those serving. The team passed out all the letters and care packages all over Afghanistan and Kuwait as well as donating to the USO there.
Special sneak peak/fundraiser screenings of I Am Battle Comic are already scheduled in Los Angeles, Houston, New York, Detroit, Minneapolis and Phoenix and all the proceeds will go to a local military charity of the sponsors choosing like Wounded Warrior, SemperFiFund, Military Families, 22Kill, For Veterans Sake and more. Those interested in sponsoring the Las Vegas screening can contact Barnhart directly.
You can catch Barnhart's stand up show nightly at 10:30 beginning Feb 1st at Jokesters Comedy Club inside the D Casino Hotel on Fremont St.
301 Fremont Street
Las Vegas, NV 89101
The doors open at 10pm and VIP seating is available.
Tickets begin at $29.95
Get discount tickets here 


Click below to Follow us on ©Feedburner