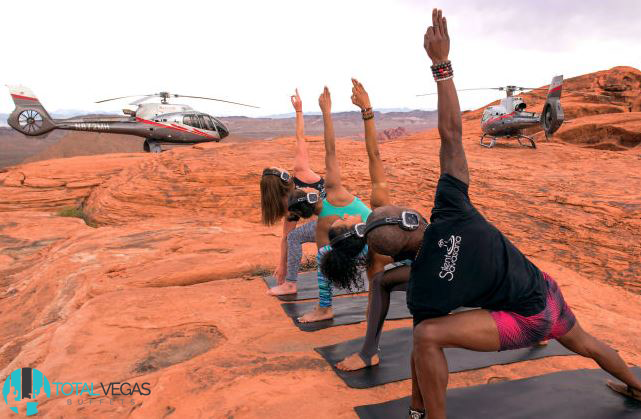 (LAS VEGAS) — There's rooftop yoga and hot yoga and nude yoga.
There's even goat yoga.
But if you're looking for the sort of yoga that will not only bring you inner soul peace and make your social followers turn green with envy, look no further it's heli-yoga.
It's a new Las Vegas concept from Maverick Helicopters. The company will transport guests from the Strip to the highest point in the Valley of Fire for a 75-minute yoga class led by Dray Gardner of Silent Savasana.
Up to six people can charter the chopper for the $3,500 experience. Requests must be made well in advance as the company has to clear the flight and landing with the state park.


Maverick pilot Riley Troy told us their clients are the type of people who are not only looking to stay health-conscious on vacation, but who want to experience "the latest and greatest Las Vegas has to offer."
Yogis wear headphones during the class. Gardner, the instructor, said this eliminates noise pollution and the interaction becomes solely between the instructor and student.


His company, he said, "always tries to take yoga places it should not be." The company is the same one behind Vegas's Yoga in the Sky experience, where students take a class on the city's High Roller observation wheel.
Part of the reason to offer yoga in such unusual places is to "open the eyes" of people who might not otherwise be drawn to the practice. "I teach to the kindergartner, but if there's a PhD in the class, we tailor it to them too."



Great Deals on Things to do in Vegas - Save Big on 400+ Activities Now on Expedia!