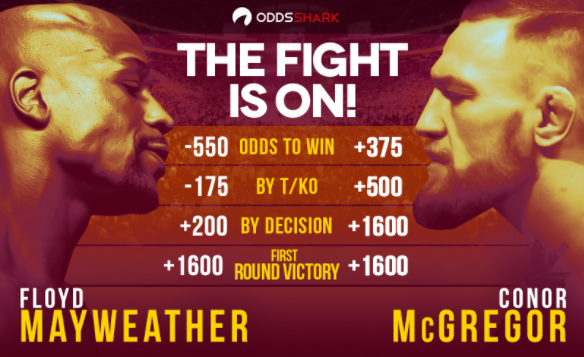 T-Mobile Arena in Las Vegas will play host to one of the biggest boxing/UFC events ever on Aug 26th
After just a year of back-and-forth talks, the biggest boxing match of the year has been made official. Floyd Mayweather will be coming out of a two-year retirement to fight UFC lightweight champion and company superstar Conor McGregor on August 26th in Las Vegas.
Various fan-made banners have been subsequently released since rumors began to surface. But just hours after the fight's official announcement was made on Wednesday,
Showtime Boxing
released the official poster.
Official Floyd Mayweather-Conor McGregor poster-Showtime


Mayweather will be gunning for a 50-0 record as he fights "The Notorious", aiming to surpass that of Rocky Marciano's. McGregor, on the other hand, will be looking to solidify his status as an elite fighter by trying to make a major dent in the boxing world by potentially defeating the man considered as the sport's "best ever."
Per Dana White's recent Facebook live interview, the fight will a 12-round battle at 154 pounds.
The interest for the fight is clearly there, but many viewed the likelihood of this fantasy fight to be more fiction than reality. "This fight is a long shot to happen, in my opinion, and McGregor is a bigger long shot if it does happen," said Bovada sportsbook manager Kevin Bradley after odds for the fight initially opened. "Floyd has never really been hit his entire career against the baddest professional boxers in the world, so Conor will have to shock the world to even lay some leather on Mayweather."
Early analysis from boxing pundits is that Mayweather will absolutely dust McGregor, which is a fair assessment considering McGregor has zero pro boxing experience. For what it's worth, and it's not very much, McGregor was an all-Ireland boxing champion during his youth.
Mayweather would bring a perfect 49-0 pro boxing record into the fight. He's made a living off of his defensive, counterpunching style of boxing, and given McGregor's lack of experience with bigger gloves, he'd likely have trouble landing significant strikes on Money Mayweather.
If you are looking to cash in on McGregor, however, he does have a number of factors working to his advantage. He's younger, bigger and has incredible punching power and accuracy. A quick scan of his hit list in the UFC shows he's put down men who've never been KO'd or even dropped before and an argument can be made that he has the best hands in the history of MMA. Another factor to consider is that Mayweather hasn't fought since September 2015, which will make it 714 days between fights, so there's no way of knowing how the prolonged layoff might affect the 40-year-old.
FLOYD MAYWEATHER VS CONOR MCGREGOR
Floyd Mayweather -600
Conor McGregor +400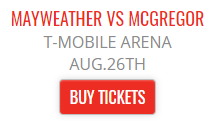 Get Tickets to Las Vegas Sporting Events at VegasTickets.com