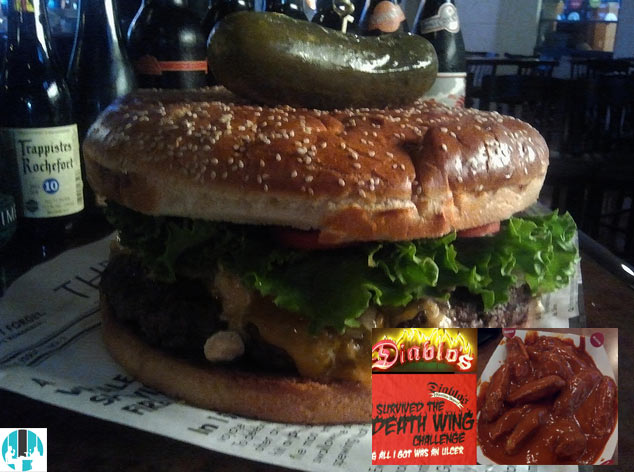 Eight-Pound Burger The Pub at Monte Carlo- Pinterst
IS THERE MORE TO ALL-YOU-CAN-EAT THAN JUST BUFFETS?
Check out these can't miss spots for those seeking some extreme eating while in Las Vegas.
Eight-Pound Burger Challenge (The Pub at Monte Carlo)
Only two people have ever completed The Pub's Burger Challenge, and that's because you only have 45 minutes to finish this 8-pound hamburger on a giant bun with 10 slices of cheese, lettuce, tomatoes, jalapeños and caramelized onions. Don't forget the 32-ounce boot of beer or root beer. The $29 burger is free if you finish. Plus you get a snazzy T-shirt.More than 100 people have tried this extremely delicious dining task, but only two have triumphed.
2.Taco Challenge (Mercadito at Red Rock Resort)
One hour sounds like a lot of time to down tacos, but when you have to eat 32, that task becomes daunting. Mercadito sets the timer and provides the corn tortilla tacos. Find room or fork over $40 for failing. Winners get their check zeroed out, a $200 gift certificate and an invitation to compete with all the winners in the fall for the grand prize of tacos for life. Why 32? Partner Alfredo Sandoval once ate that many at the Chicago outpost.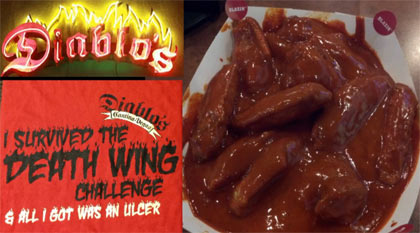 photo youtube
3.Death Wings Challenge (Diablo's Cantina at Monte Carlo)
Bring on the heat with Diablo's Death Wings challenge. The chicken wings come doused in Diablo's Death Sauce, a sinister blend of habanero chili purée and ghost chili extract. You have 20 agonizing minutes to devour 20 of these hot, hot, hot wings. The winner lands not only free wings, but also a T-shirt and photo on the wall of fame. Losers, you'll have to pay and join the hall of shame.


Use promo code ACTIVITIES20 to save $20 on things to do! See more deals below. 
Get $20 Off Things to Do or Airport Transfers