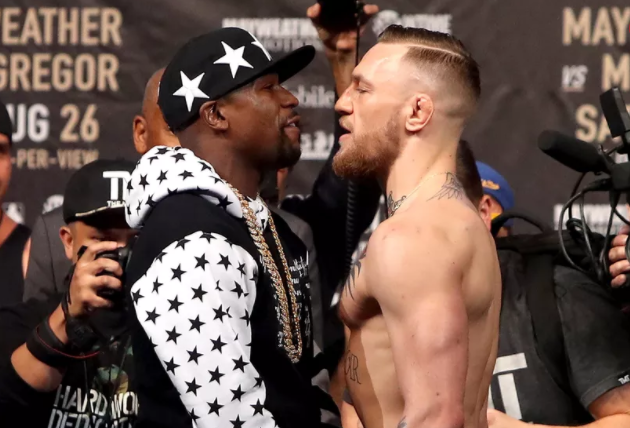 Photo by Mike Lawrie/Getty Images

The superfight of all superfights is just one week away, as UFC champion Conor McGregor makes his transition over to boxing against undefeated great Floyd Mayweather Jr. on Aug. 26 live on Showtime pay-per-view (PPV) from inside T-Mobile Arena in Las Vegas, Nevada. Before McGregor swings his Irish fists at Mayweather's moving head, the two combat stars will tip the scales this coming Friday for official weigh ins.
Floyd Mayweather Jr. vs. Conor McGregor, billed as "The Money Fight", The 180 Million Dollar Dance is an upcoming professional boxing super fight between undefeated eleven-time five-division professional boxing champion of the world Floyd Mayweather Jr. and the current UFC Lightweight champion
Conor McGregor
. It will take place at the T-Mobile Arena in Paradise, Nevada on August 26, 2017.
Although the Irishman is a two-weight world champion in the sport of mixed martial arts, he has not boxed competitively since the age of 16, when he was an All-Ireland champion at youth level.
In contrast, Mayweather is widely regarded as one of the best defensive boxers to have ever lived.
He has been knocked to the canvas just once in his 21-year professional career – in a fight he would come back to win via a unanimous decision – and possesses the highest average punch connect rate of any active fighter, according to the respected computerized scoring system CompuBox.
Should he defeat McGregor, he will move ahead of former heavyweight great Rocky Marciano, who also retired with a perfect 49-0 career record.
 


Conor McGregor and Floyd Mayweather at Toronto Press Conference (warning graphic)
Mayweather Promotions
, rather than the UFC, will publicize the event, which will be available on Showtime pay-per-view in the United States.
The PPV price is expected to cost in excess of $100
. "We're not only drawing from the universe of boxing fans and the universe of MMA fans, we've actually tapped into the audience that doesn't follow either sport," Showtime Sports executive vice president Stephen Espinoza said. "This is an unprecedented event." Floyd Mayweather Jr vs Conor McGregor Official Weigh-In FRI Aug 25 1:00PM
T-Mobile Arena
Fans will start getting general public access to the weigh-in tickets starting on August 22 at 10:00AM PST. However, there will be a pre-sale for the weigh-in tickets starting on Monday, August 21, which will run from 10:00AM to 10:00PM PST. The weigh-ins for the event are set for Friday, August 25 at 1PM local time. Conor McGregor will then fight Floyd Mayweather Jr. on Saturday, August 26. The main card will be broadcast live on Showtime PPV. Click below for best up to the minute pricing available!


Weigh in tickets starting at $12 - Selling out fast