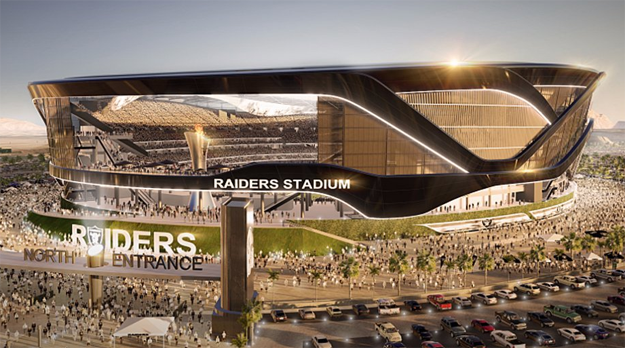 The Las Vegas Stadium Authority will get its first look at the details of the financing of the 65,000-seat domed football stadium when it meets Thursday.The stadium has been billed as a $1.9 billion project that includes $750 million in public funding to support bonds paid off with a 0.88 percentage-point increase in a hotel room tax that ranges between 12.5 percent and 13.4 percent.The renderings of the stadium, via Manica Architecture and the Las Vegas Review-Journal, do portray a flashy, eye-catching stadium.

The Raiders want to kick off the 2020 season at the 65,000-seat domed stadium they plan to build near the Las Vegas Strip. The team faces a series of tight deadlines after several weeks of work were lost when an instrumental financial backer backed out, forcing team executives to scramble to get a $650 million loan from Bank of America.
Las Vegas stadium's layers and levels
The planned Las Vegas stadium will have 10 levels:
— Event level, 20 feet below ground — Grass field (grown outdoors and rolled in and out of the stadium); security command/medical; truck dock; main kitchen/commissary; electric substation; hot water; trash holding; building maintenance; back-of-house facilities; visiting team facilities; staff entrances; press work rooms; interview rooms; Raiders locker rooms; UNLV home locker rooms; Raiderettes locker rooms.
— Lower mezzanine, ground level — Retail store; box office; VIP entry lobbies.
— Main concourse, 16 feet above ground — Concessions; sponsor area; public restrooms; club facilities; ticket-holder seats; storage.
— Lower suite, 32 feet above ground — Standard and executive suites; VIP lounges.
— Upper suite, 52 feet above ground — Public restrooms; suites; ticket-holder seats; concessions; VIP lounges.
— Mid-bowl mezzanine, 70 feet above ground — Air handling equipment rooms.
— Upper concourse, 88 feet above ground — Ticket-holder seats; concessions; hawker areas; incidental storage.
— Upper mezzanine, 100 feet above ground — Ticket-holder seats.
— Catwalk, 157 feet above ground — Access to lights and equipment.
— Roof, 195 feet above ground — Ethylene Tetra Flouro Ethylene cable roof system.


Construction workers cheered when the public board that oversees the proposed stadium approved an agreement kicking off the $1.9 billion project. But since the cheering, minority-owned businesses and others have continued reminding the board and Raiders executives to remember them.
"We want to ensure that the communities who fought for the stadium benefit from the stadium with small businesses, employment and community quality of life," Shaundell Newsome, vice chairman of the Urban Chamber of Commerce board of directors, told members of the Las Vegas Stadium Authority Board at a recent meeting.
The law that authorized a tax increase to partially fund the stadium called for the development of a "community benefits plan" and an accompanying oversight committee to ensure that as many local residents as possible would have access to the economic opportunities the stadium is expected to create. Other recen
NFL stadium deals have included similar requirements.