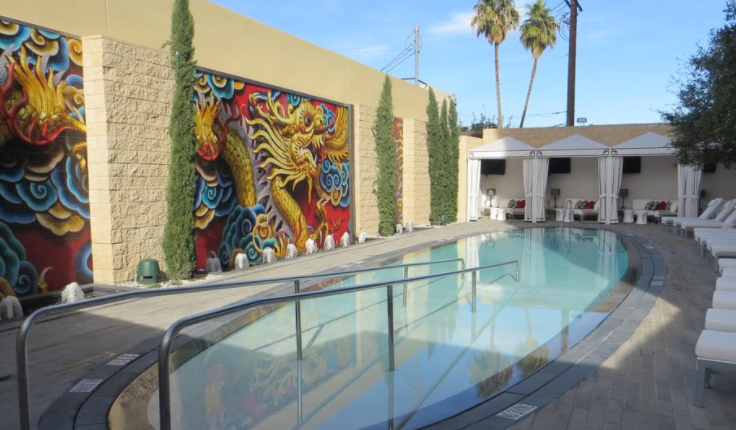 Cha Garden Pool & Tea Lounge


Zen pool experience
at the Lucky Dragon Hotel Casino. The indoor-outdoor pool and  tea lounge is now open and boasts private tea cabanas fully equipped with modern amenities, and a sensational pool menu featuring refreshing classic and signature cocktails and bottle service, as well as assorted baos, sandwiches, salads and small bites.
The shoreline swimming pond, surrounded by a mosaic dragon mural fountain, calming oak trees, and private tea cabanas, allows guests to bask in the tranquility of a Feng Shui-designed garden and pool experience unlike anything to be found elsewhere in Las Vegas. The private tea cabanas also feature sleek seating and modern amenities such as HDTVs.
The debut of Lucky Dragon's pool deck menu further heightens the experience with a Far East-inspired cocktail and dining menu that includes tea-centric specialty cocktails and Asian yum cha, or small bites.
Drink Menu Highlights:
经典 Classic
Green Tea Margarita – Patron Silver Tequila, Cointreau, green tea, lime juice, soda water
Macao Mule – Absolut Lime, Fever Tree Ginger Beer, fresh lime
Lucky Tea-Ni – Belvedere Peach Nectar, Crème de Cassis, Chandon Brut, white peach puree, black tea
Taichung Sparkle Punch – Mt. Gay Eclipse, Cointreau, Chandon Brut, Funkin Brazilian, lemonade, fresh strawberries
三明治 Sandwiches
越式三明治 Bahn Mi – Vietnamese meat loaf, pork cucumber, cilantro, jalapeno, pickled daikon and carrot
手撕鸭三明治 Roast Duck – Shredded with five spice, Hoisin, cucumber, and scallion
小吃 Small Bites
锅贴 Potstickers
椒盐鸡翅 Salt & Pepper Chicken Wings
芝士拼盘配薄脆饼干 Assorted Cheese & Water Crackers
The tea
Yes, the tea. If there is one trend that's ready to take off -- it's tea tastings. And the Lucky Dragon could soon be known as the place where it all began. There's no one else in the US (or really anywhere) that can match what's being done in the Cha Garden lounge area. Tea is presented in its purest form with no processing or pesticides used -- unlike the ones from the grocery store that are probably sitting in your kitchen pantry right now. In fact, ladybugs are used in place of pesticides, giving true meaning to organic farming. The menu lists details about each tea that include the location of where the leaves were grown, the elevation, and even the name of the farmer. Each one is grown in China or Taiwan, and could arrive at the Lucky Dragon within five days of harvesting.
The Lucky Dragon gives tea the same consideration that might be found with wine or whiskey, including vintages and verticals. The program is supervised by the only tea sommelier in Las Vegas and features a ceremonial presentation known as Gongfu. The teas can also be sold to take home. Free tastings are offered daily from 3-6pm.
Spring pool hours are 10 a.m. – 6 p.m. Locals are welcome at no charge. Cabana rates are based on F&B minimum and are subject to change. Cabanas are rented on a first-come, first-serve basis. For more information please visit
LuckyDragonLV.com
.